'As individual as you are'
OK, so it's an old cliché 'as individual as you are', but, creative, bespoke graphic design brings you the individuality you need to get noticed.
Graphic design should illustrate your professionalism and individuality. Taking pride on how you present your company demonstrates you are conscious of the way others will perceive and appreciate the significance of your corporate identity.
Northern Studios specialises in unique designs which are 'as individual as you are'. Once establishing your corporate objectives, we will create an exclusive and distinctive design which will generate exciting branding opportunities.
Most people believe that graphic design starts and ends with a logo. We believe that your new design crucially becomes your identity and we work with you to develop and create opportunities to expand and carry through your individuality to all your corporate needs.
'Design is a funny word. Some people think design means how it looks.
But of course, if you look deeper, it's really how it works' Steve Jobs
'Ensuring quality'
Northern Studios is more than happy to hand over your new design work for you to place with your chosen supplier. However, we do offer an established pint management service, enabling you to take comfort that we are maintaining the high standards already achieved by placing your enquiry with a competent and recognised supplier.
Whilst ensuring a trouble free handling of files etc, we will acquire comparative quotes; arrange production schedules and delivery deadlines. In short we will take the pressure of such projects, so that you are able to get on with what you are good at, running your business.
'Management manages by making decisions and by seeing those decisions are implemented.'
Harold S. Geneen.
Graphic design case study #1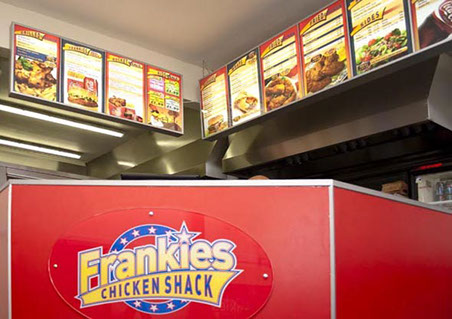 New Rochdale based fast food outlet required complete branding from logo design, through to signage, menu boards, illuminated signs, menus and stationary. Menu photography all done in-house for continuity of quality.
Graphic Design Case study #2
Imported range of Palm Wax candles from the far East needed photographing and brochure design with logo branding also. Final brochure format was 16 page A4 landscape.
10 Briery Hey, Bamber Bridge, Preston, Lancs. PR5 8HU
t: 01772 337599 • m: 07982 402 999 • f: 0871 256 4049
e: robin@northernstudios.co.uk