Packaging Design has long been more than a simple container or wrapper for a product that protects it. Packaging Design is also used to sell its contents. Package Design, both structural and graphic, has become ever more relevant as competition has increased - so much so that we often find ourselves in the paradoxical situation of appreciating the packaging more than the product itself.
Package Designer in Preston with over 25 years of experience. Our services encompass all aspects of Package Design and packaging advertising in Preston.
Lasting impressions are essential to a company's marketing strategy. We make sure that the first impression is the most positive professional identifier you can offer.
The need for a good packaging designer
The role of the Package Designer is to create demand for a product. The amount spent on advertising should be relevant to the potential sales impact of the campaign.
Package design work is the start of making you look professional, well organised and will help you define your company. First impressions count especially with your marketing material. Using a Packaging designer will make your product memorable. Upgrade your business now. Show your prospects and clients you value yourself. Investing in a Package Designer will make the difference. When Package Design is combined with an attention-getting slogan or logo, you will begin to pull your ideal clients right to you.
Some of the brands we have designed for
Package design case study #1
Packshot photos for Preston Pals Commemorative ale. Local Army surplus store very kindly donated props for the shoot, including a very rare (and expensive) authentic WW1 camouflage netting. The beer is brewed to an authentic Edwardian Porter recipe, very similar to what the Pals would have toasted in Preston pubs before embarking on their fateful adventures. Any profits from sales will go towards a second memorial to the Pals to be placed in France.
Package design case study #2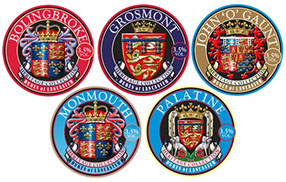 Following on from the Preston Pals package design, a collectors pack of four premium ales produced by Hart Brewery of Preston, to commemorate the Diamond Jubilee of Queen Elizabeth II who is also the Duke of Lancaster. That was the angle for the label designs, each one depicting a historic Duke of Lancaster.
Why use a packaging designer
A packaging designer can help you stand out from the rest.
Package design can help you look professional.
Package design can help you save time.
Package design can help your business get noticed.
Package design can save you money.
Package design can help you think outside the box.
Finally, your business is worth it!
Packaging design portfolio
10 Briery Hey, Bamber Bridge, Preston, Lancs. PR5 8HU
t: 01772 337599 • m: 07982 402 999 • f: 0871 256 4049
e: robin@northernstudios.co.uk